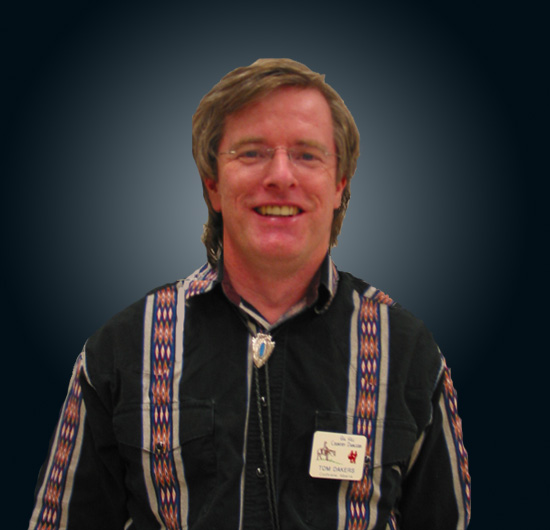 Tom started square dancing at the age of six with a kids club in Edmonton, called the Heel and Toe. Not long after, he thought he'd like to try his hand at calling. He got some records over the years and went to the Alberta Callers School in 1976. Years of bothering older callers with questions and calling at places like Wandering Squares followed.
Tom called at the First National Square Dance convention in Edmonton in 1978. He taught his first class that year. He has called at most of the Provincial and national conventions since then. Tom called for several different clubs in Edmonton and area until 1989 when he and Maureen moved to Calgary.
In between dances, Tom writes about baseball for a popular Toronto blue Jays fan site – Blue bird Banter (bluebirdbanter.com) and CBCsports.ca. He spends more time talking and thinking about baseball than a person really should.
He and Maureen lead a busy life with their three boys and all the sports that go with boys. With a handful of guitars, a bass, a ukulele, a drum set and a piano around the house, it is never quiet. Tom plays the guitars and recently started drum lessons, just to prove to himself that he has no coordination.
Music and dance is and will always be an important part of their lives.