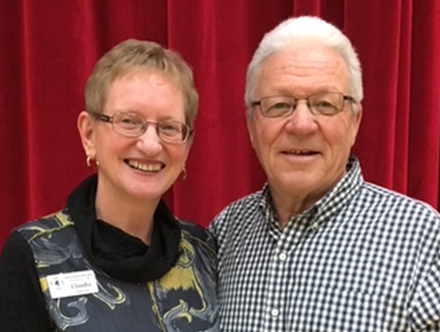 Dave and Claudia started dancing in 1994 when they moved from Devon to Strathmore. Dave made the life-changing decision to take up calling in 2005, and became Strathmore's club caller in 2008. In addition, Dave teaches new dancers for Banff Trailers in Calgary and calls/teaches part-time for a club in Rocky Mountain House. He uses Dale Bennett's innovative new dancer program called "The Nest" – a program that offers weekly entry points and accommodates dancer absences and different learning paces. Dave enjoys calling for special occasions such as weddings, birthday and anniversary parties, staff parties, summer camps and other special events.
Claudia started cueing rounds in 2008. She teaches 1/2 hour of rounds for two clubs, prior to the start of each square dance evening to anyone who wants to learn basic two-step or waltz steps. She is actively involved in promoting square and round dancing. Claudia is the editor of the "Alberta Chatter" newsletter, which provides promotion and marketing ideas, shines a light on people in the dance community, and provides history and general information about our much loved activity. Past issues can be found at: http://www.strathmoresquaredance.com/newsletter.html.
Dave & Claudia have four children and six grandchildren. They enjoy gardening, traveling, socializing and the wonderful world of dance.