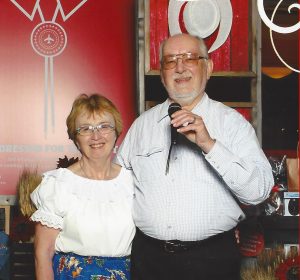 Contact:
Barrie McCombs (partner: Carole Cormier)
bmccombs@ucalgary.ca
403-281-4863
Clubs:
Dots & Dashers (apprentice caller)
Barrie and Carole began Modern Western Square Dancing with the Dots & Dashers club in 2007. They began Round Dancing in 2010 and Plus level square dancing in 2014.
Since 1994, Barrie had done some Old-Time Square Dancing while attending fiddle camps at Emma Lake, Saskatchewan. He began to learn some Canadian Folk Dances while playing with the Prairie Mountain Fiddlers at the old-time Barn Dances at Heritage Park in Calgary. He now calls for these dances and teaches square dancing at the Home On The Range camp program at the Park.
Barrie and Carole attended the Alberta Caller School for the first time in 2011 and have attended every school since. After he gained more experience, he began to teach at the lessons of the Dots and Dashers club, under the guidance of Tom Dakers. He occasionally fills in as the caller when Tom is unavailable.
Barrie is available to call for community groups who would like to hold a Barn Dance or introductory Square Dance event.