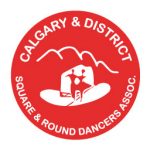 The Calgary & District Square & Round Dancers Association ("C&D") is a registered non-profit organization which coordinates the activities of the square and round dance clubs in Calgary, Alberta, Canada and surrounding areas. Our governing board is composed of two representatives from each member club.
Contacts:
– Executive
– Instructors
Bylaws:
– Our current bylaws, as revised on June 22, 2014.
– A new set has been submitted to Alberta Registries for approval.
Our District activities include:
– Promote of square and round dancing and related dances styles
– Hosting city-wide dances featuring Canadian and International callers
– Annual barbecue and dance
Our Club activities include:
– Weekly or bi-weekly mainstream level dances
– Weekly square dance lessons
– Social events
We are members of the Alberta Square & Round Dance Federation (ASRDF) who:
– Coordinate square and round dance activities in Alberta
– Sponsor the annual Alberta Convention
We are members of the Canadian Square & Round Dance Society (CSRDS) who:
– Promote square and round dancing in Canada
– Sponsor the biennial Canadian Convention
– Provide liability insurance for clubs, dancers, callers & cuers